St. Gerard Parish (Yorkton, SK)
Welcome To The St. Gerard Roman Catholic Parish Website!
Our Mass Schedule for the upcoming 7 days is available on every page of our website, and is updated continuously. When you select "All Services" at the bottom of the Mass Schedule, you will find a list for the next 7 days which includes times for Devotions, Prayer Vigils, and Reconciliation.
Parish events have been organized into our Events Calendar.
You will also find information about our Faith in our Ministries, Education, and Sacraments sections.
Check out the latest news here!
---
---
Located in Yorkton, Saskatchewan, we seek to celebrate the glory of God the Father, and to promote the mission of our Lord Jesus Christ according to the precepts of the Church – building the Body of Christ and reaching out in love of the Holy Spirit.
St. Gerard Parish is the first in the world to be named after St. Gerard Majella, as our parish was established the day of St. Gerard's canonization (December 11, 1904).
Mass Schedule
Fri

9:30am

Sat

9:30am

,

5:00pm

Sun

9:00am

,

11:00am

Mon

12:05pm

Tue

7:00pm

Wed

9:30am

,

2:30pm

Thu

9:30am
All Services
Parish Bulletin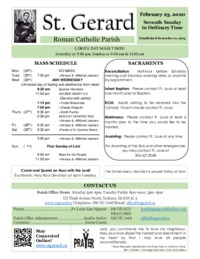 Feb 23, 2020
Seventh Sunday in Ordinary Time
Upcoming Events
Feb. 28, 2020

4:00pm - 5:15pm

St. Gerard Parish

St. Gerard Youth Choir Rehearsal

Feb. 28, 2020

4:00pm - 5:15pm
St. Gerard Parish

Feb. 28, 2020

7:00pm - 9:00pm

CWL Room - Lower Level

RCIA Group 1

Feb. 28, 2020

7:00pm - 9:00pm
CWL Room - Lower Level

Feb. 28, 2020

7:00pm - 9:00pm

YAT Choir Rehearsal

Feb. 28, 2020

7:00pm - 9:00pm


Feb. 29, 2020

12:30pm - 5:00pm

Live Christ, Share Christ Seminar

Feb. 29, 2020

12:30pm - 5:00pm


Mar. 1, 2020

9:30am - 10:30am

CWL Room - Lower Level

RCIA Group 2

Mar. 1, 2020

9:30am - 10:30am
CWL Room - Lower Level

Mar. 1, 2020

12:15pm - 12:45pm

Teen Sacrament Preparation Meeting

Mar. 1, 2020

12:15pm - 12:45pm


Mar. 1, 2020

5:00pm - 6:00pm

Tri-sacrament Preparation

Mar. 1, 2020

5:00pm - 6:00pm


Mar. 2, 2020

9:00am - 3:00pm

CWL Quilting Bee

Mar. 2, 2020

9:00am - 3:00pm


Mar. 2, 2020

4:00pm - 5:15pm

St. Gerard Youth Choir Rehearsal

Mar. 2, 2020

4:00pm - 5:15pm


Mar. 2, 2020

7:00pm - 9:00pm

Bible Study

Mar. 2, 2020

7:00pm - 9:00pm


Mar. 3, 2020

9:00am - 3:00pm

CWL Quilting Bee

Mar. 3, 2020

9:00am - 3:00pm


Mar. 3, 2020

5:00pm - 6:00pm

Choir Rehearsal For 9am Mass

Mar. 3, 2020

5:00pm - 6:00pm


Mar. 3, 2020

7:30pm - 8:30pm

CWL Room - Lower Level

Marriage Preparation Session

Mar. 3, 2020

7:30pm - 8:30pm
CWL Room - Lower Level

Mar. 5, 2020

9:00am - 12:00pm

Perogy Bee - Dough

Mar. 5, 2020

9:00am - 12:00pm


Mar. 5, 2020

3:00pm - 6:00pm

Perogy & Cabbage Roll Fundraiser

Mar. 5, 2020

3:00pm - 6:00pm

More Events